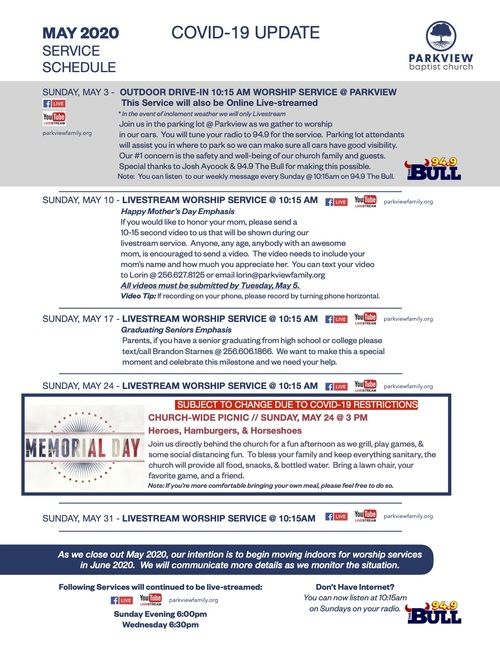 April 26, 2020
Parkview Family,
Below you can find our schedule of services for May 2020. We are currently still under "Stay At Home Order" by our governor, Kay Ivy till April 30. We expect small transitions back to some type of normalcy, but we can never fully predict these. We will remain prayerful and flexible as in the days ahead, but we can't wait to be back on campus with you all.
God Bless Each of You,
Casey Hagle, Pastor
_________________________________________________________________________________________________________________________________
March 14, 2020
Parkview Family,
We continue to believe that one of the best ways we can love our city right now is by taking proactive steps to slow the spread of coronavirus and reduce the number of people infected with COVID-19. This week, Governor Ivy and the Department of Health have announced further measures to minimize the health impacts of COVID-19, which includes caution on public gatherings of people and a closing of all schools in Alabama counties through April 6.
While we're not gathering in-person, our Sunday online gatherings will be happening every Sunday at 10:15am & 6:00pm.
These can be accessed on our App, online @ parkviewfamily.org & our Facebook page.
In addition to our online gatherings, we will soon be releasing additional online content (via video, podcast, and social media) to support our church family as we continue to grow as disciples of Jesus, sacrificially serving one another and our community together. We will continue to have content available every Sunday and throughout the week for you and your family to learn and worship together.
Parkview Students
is happening each Wednesday at 6:30pm on Facebook Live, and
Parkview Kids
will be posting content on a regular basis as well.
If you are accustomed to giving financially to support the mission of the church at our Sunday gatherings, consider shifting your giving online at
parkviewfamily.org/give
and on the Parkview app. Giving has remained strong throughout this season—you continue to be a joyfully generous church!
Prayer & Mission

‍Our mission as a church has not changed, and if you learn of a need in our community that you believe we can rally together to address as a church, please do let me know at
[email protected]
.
We all have people in our lives who are high-risk or are impacted by the school closures. If the outbreak has adversely affected you or your family, please let us know so we can provide as much support as possible—this is what family does in difficult times. Please let us know how we can be praying with you by submitting a
prayer request here
.
Lastly, continue to join us in praying for our community. Also, those who are affected by this illness, as well as their caregivers and those who are working around the clock to minimize the impact of this virus in our community.
For The Furtherance of the Gospel,
Casey Hagle, Pastor